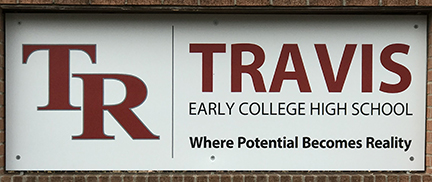 STAY IN THE TRAVIS LOOP!
Travis ECHS Official Website
Travis Facebook Page
Travis ECHS Parent Student Teacher Association (PTSA) Website
Travis PTSA Facebook Page
Travis PTSA/Community Facebook Page
Instagram
Twitter
The Travis Early College High School Parent Teacher and Student Association (Travis ECHS PTSA) is a registered non-profit organization comprised of a group of committed parents, teachers, staff, community members, and students who are dedicated to supporting the growth and health of Travis by providing events, programs, funds, and support.
Our Vision: Making every student's potential is a reality!
Our Mission: To make every student's potential a reality by engaging and empowering families and communities to advocate for all children!
Our Objectives: to promote the welfare of students in home, school, places of worship, and throughout the community; to raise the standards of home life; to advocate for laws that further the education, physical and mental health, welfare, and safety of students; to promote the collaboration and engagement of families and educators in the education of students; to engage the public in united efforts to secure the physical, mental, emotional, spiritual, and social well-being of all students; and to advocate for fiscal responsibility regarding public tax dollars in public education funding.
Family and community engagement provides for a welcoming and inclusive community that respects the individual while promoting community values. We are dedicated to helping students thrive in all stages of their education through student organization involvement, living and learning opportunities, and a multitude of leadership and engagement experiences. We have many ways to connect:
Travis ECHS PTSA is always looking for family and community members to join us and help fundraise, celebrate our students' successes, and volunteer at events. If you are interested in joining, please complete the Membership form online. Current PTSA dues are $10 per year (which includes a FREE special Travis Early College High School T-Shirt).

For further information about Travis ECHS PTSA, send us an email.
Complete your MEMBERSHIP FORM HERE and get a FREE T-shirt with a new/renewed 2019-2020 membership! Additional T-shirts for a member are only a $6 donation per shirt ($2 extra for 3XL and 4XL).

Shirts for non-members are $15 donation per shirt ($2 extra for 3XL and 4XL). You may order here if you just want to purchase a Travis spirit T-shirt. We have small, medium, large, extra large, XL, 2XL, 3XL and 4XL XL T-shirts: