You may translate this page in any of the five languages spoken at Travis by using the Google Translate icon in the upper right of this or any page.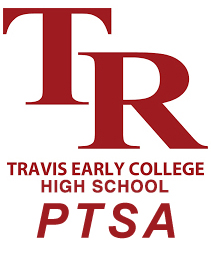 COVID-19 RELATED UPDATES
To provide you with the latest information from Travis and AISD, we have created a new page, UPDATES, with current information as we receive it through the school and AISD. Click here.
STAY IN THE TRAVIS LOOP!
Travis ECHS Official Website
Travis ECHS Facebook Page
Travis PTSA Facebook Page
Travis PTSA/Community Facebook Page
Instagram
Twitter
The Travis Early College High School Parent Teacher and Student Association (Travis ECHS PTSA) is a registered non-profit organization comprised of a group of committed parents, teachers, staff, community members, and students who are dedicated to supporting the growth and health of Travis by providing events, programs, funds, and support.