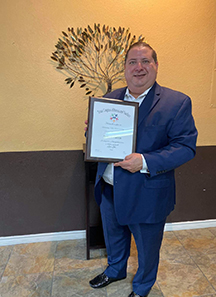 Our FIRST Lifetime PTSA Member
Mr. Robert Falcon of Affordable Burial Services is our first lifetime PTSA member! He is not only an alumnus of Travis, but a typical Rebel success story. He was awarded his Lifetime Membership for his very generous contribution that allowed students unable to attend one of our games to have safe, comfortable bus transportation to the game. Thank you, Mr. Falcon for your kindness and generosity!!

Successes for 2019 to Date
So far this year, we have:
created a PTSA website that can be translated into the 6 languages our students/parents speak;
increased communications among members of the Travis community through that new PTSA website, PTSA Facebook, PTSA Instagram, and Twitter accounts;
created and offered Travis spirit item(s);
provided financial support to band for new instruments and instrument repair;
assisted with creation of "Rebellious Style" Care Closet for Travis students;
created a new Alumni Committee to provide mentoring and support to Travis students;
held multiple staff appreciation events;
provided support for campus work days;
procured a donation of two composting bins for the garden and Green Teens;
located a consultant to revamp the Athletic Department's weight room;
donated 10 ChromeBook chargers to the Library;
and created a Student Advisory Committee to advise the PTSA Board on student issues.

Here is what our Travis Garden area looks like after massive cleanup and addition of compost barrels, thanks to volunteers, staff, students and donors.
GO GREEN TEENS!
Goals
Here are some of our goals for the rest of the year with lots more to come: